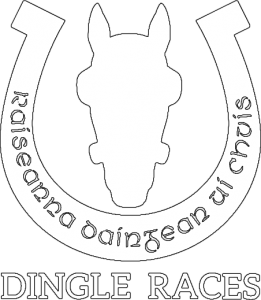 Ireland's Largest and Best Horse & Pony Meeting
Ráiseanna Daingean Uí Chúis
9th, 10th & 11th August 2024
First race kicks off at 4pm on Friday, and 2:30pm on Saturday and Sunday.
The races in Dingle are the biggest of all Horse & Pony races in Ireland. The real racing fan cannot miss the twenty races that are spread over the weekend. The local saying that the summer is gone after the races might not be completely true, but what is true is that the races are the absolute highlight on Dingle's event calendar!
The centre of the racecourse is filled with bouncing castles, fortune-tellers and fair stands that sell everything from bouncing balls to saddler's sponges. Entertainment for the whole family!
Every year in August, the field at Ballintaggart changes into an enormous racetrack filled with horses, jockeys and horse racing enthusiasts from all over Ireland and the rest of the world. No less than 20 races are held with a total prize fund of €40,000!
Ladies Day
Sunday 13th August 2023